---
---
One of the foundational requirements of health is an adequate fuel supply…aka food.
The food you eat drives energy production in the body and provides raw materials for cellular repair and growth.
At The Powerhouse, we teach the principles of Eat By Design.
Eat By Design focuses on fueling your body for what your genes expect. The focus is on foods with the greatest nutritional density with the least toxicity.
With that in mind, we've prepared a list of 10 easy, By Design recipes you can prepare in under 10 minutes.
For those of who have been through the 30 Day Eat By Design Challenge, you know it can be tough to constantly think of new meal ideas, especially when switching from a primarily processed food or grain-based diet….
…so we want to make the transition as easy as possible for you.
These recipes include breakfast, lunch, dinner, and snacks…
Enjoy!
Join us for the next Eat By Design Workshop and your Challenge registration is included!
Download Your Eat By Design Manual Here
Tired of jumping on every new diet trend? Learn a simple and sustainable alternative to start eating more healthy today!
Eat By Design works in harmony with your body's genetic make-up and design. It is not a diet, but instead an approach to fulfilling the nutritional requirements of the body for optimal function.
WHAT YOU WILL LEARN
The One Thing You Should Eat at EVERY Meal
What Type of Fat Won't Make You Fat
3 Health Foods To Avoid At All Costs
Breakfast: Chocolate "Peanut Butter" Protein Smoothie Bowl
Prep Time: 5 Minutes Total Time: 5 Minutes
Makes 2-3 servings
Ingredients
Smoothie
3 frozen bananas
2 cups almond milk
1 heaping scoop chocolate protein powder
2 tablespoons almond butter
1 tablespoon cocoa powder
1 teaspoon honey or maple syrup
½ teaspoon vanilla extract
Toppings
1/3 cup coconut flakes
1/3 cup raw or toasted mixed nuts
¼ cacao nibs
1-2 bananas, chopped
Directions
Place bananas, almond milk, protein powder, sunflower seed butter, cocoa powder, honey, and vanilla extract in a blender and blend until smooth and creamy.
Pour mixture into 2-3 bowls and top with all toppings and whatever toppings you prefer.
Breakfast: 6 Ingredient Breakfast Pizza Baked Peppers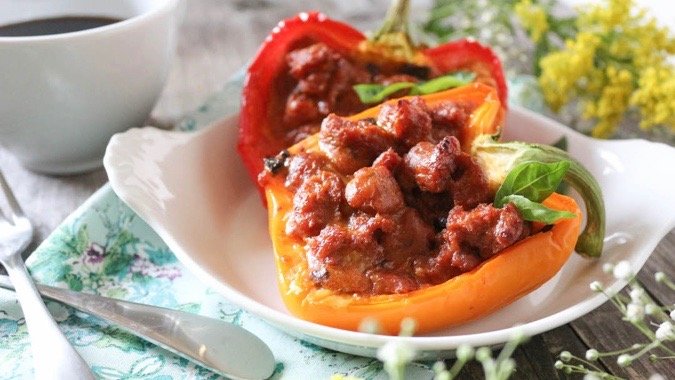 Prep Time: 10 minutes Bake Time: 1 hour, 5 minutes Total Time: 1 hour, 15 minutes
Makes 3 servings
Ingredients
1 pound ground italian sausage
1 cup sliced mushrooms, chopped
4-5 basil leaves, torn
6 eggs, whisked
salt and pepper, to taste
½ cup pizza sauce
3 bell peppers, cut in half, seeds removed
Directions
Preheat oven to 325 degrees F.
Cut bell peppers in half and place in an greased 8×8 rimmed baking dish cut side up. (If any of the bell pepper halves are leaving to the side, ball up a piece of aluminum foil and place it in the crevices to help keep them sitting up right – this will keep the egg mixture for pouring out).
Place Italian sausage in a medium pan over medium heat. Break up with a wooden spoon. Once browned, add chopped mushrooms and cook until soft. Lastly, add pizza sauce, basil and a bit of salt and pepper then mix to combine.
Whisk eggs in a large bowl then pour in Italian sausage mixture and whisk to combine.
Use a ladle to pour mixture into each pepper half.
Place in oven to bake for 45-50 minutes, or until egg is completely cooked through and no jiggle remains.
Let cool slightly before eating!
---
---
---
---
Snack: Honey Vanilla Cashews
Snack: Bite-Sized Raspberry Popsicles
Lunch: Coconut Lime Chicken Soup
Lunch: Nicoise-Ish Salad
Dinner: Garlic Mustard Beef Skewers
Dinner: Shrimp Piccata Pasta
Dessert: Quick and Easy Peach Sorbet
Dessert: Chocolate Chip Cookies